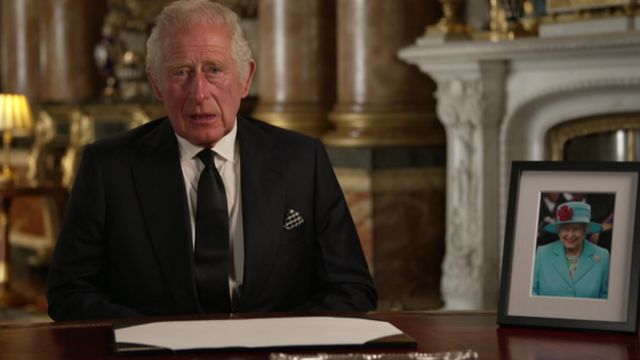 King Carlos III offered the following speech to the nation and the Commonwealth of Nations, which we offer here in full:
"I write to you today with feelings of deep sadness. Throughout her life, Her Majesty the Queen, my beloved mother, was an inspiration and example to me and my family, and we owe her a heartfelt debt, the greatest that a family could have; for his love, affection, guidance and example.
Queen Elizabeth II was a life well lived; a promise with destiny fulfilled and we deeply regret the loss of it.
That promise of lifelong service is renewed by me today with all of you.
Along with the personal mourning felt by my entire family, we also share with so many of you in the UK, in all the countries where the Queen was Head of State, in the Commonwealth of Nations and around the world, a deep appreciation for more than 70 years in which my mother, as queen, served the people of so many countries.
In 1947, on his twenty-first birthday, he promised in a speech from Cape Town to the Commonwealth of Nations to dedicate his life, long or short, to the service of his peoples.
That was more than a promise: it was a deep personal commitment that defined his entire life.
He made sacrifices for his tasks. Her dedication and devotion as her sovereign never wavered through times of change and progress, through times of joy and celebration and through times of sadness and loss.
In his life of service we saw that love for tradition together with that fearless commitment to progress that makes us great as nations.
The affection, admiration and respect that he inspired became the hallmark of his reign. And as all members of the royal family can attest, he combined those qualities with warmth, humor and an unerring ability to see the best in people.
I pay tribute to the memory of my mother and honor her life of service. I know that her death causes great sadness to many of you and I share that sense of loss without measure with all of you.
When the queen came to the throne, the UK and the world were still dealing with the hardships and effects of the Second World War and we were still living the conventions of days gone by.
Over the course of the last 70 years, we have seen our society become one with many cultures and beliefs.
In turn, state institutions changed. But through change and challenge, our nation and the great family of kingdoms – whose talents, traditions and achievements I am so unspeakably proud of – have prospered and flourished. Our values ​​have remained, and will continue to remain, constant.
The role and duties of the monarchy will also be maintained, as well as the sovereign's particular relationship and responsibility to the Church of England, the Church in which my own faith is deeply rooted.
In that belief, and the values ​​it inspires, I have grown to appreciate a sense of duty to others, and hold the utmost respect for cherished traditions, freedoms, and responsibility for our history and our parliamentary system of government.
As the queen herself did with such unwavering devotion, I too solemnly pledge, in the remaining time that God grants me, to uphold the constitutional principles that are at the core of our nation.
And wherever you live in the UK, in the kingdoms and territories around the world, and whatever your beliefs or backgrounds, I will seek to serve you with loyalty, respect and love, as I have throughout my life.
My life will of course change as I take on my new responsibilities. It will no longer be possible for me to devote as much time and energy to charities and issues that I care deeply about. But I know that important work will continue in the trustworthy hands of others.
This is also a time of change for my family. I count on the invaluable help of my dear wife, Camila. In recognition of her loyal service since our marriage 17 years ago, she now becomes queen consort. I know what the continued devotion to duty on which I have relied so much will bring to the demands of her new role.
As my heir, William now assumes the Scottish titles that have meant so much to me. He succeeds me as Duke of Cornwall and he assumes the responsibilities of the Duchy of Cornwall that I have fulfilled for more than five decades.
Today I am proud to make you Prince of Wales, Tywysog Cymruthe country whose title I have had the great privilege of bearing for much of my life and work.
With Catherine by her side, I know our new Prince and Princess of Wales will continue to inspire and lead our conversations as a country, helping to bring the marginal to center stage where vital support can be rendered.
I also want to express my love for Harry and Meghan as they continue to build their lives abroad.
In just over a week we will come together as a nation, as a Commonwealth of Nations and as a global community, to bury my beloved mother. In our pain, let us remember and draw strength from the light of her example. On behalf of my entire family, I can only offer my deepest and most sincere thanks for her condolences and support. They mean so much more to me than I could ever express.
And to my loving mom, as you begin your last great journey to be with my dear deceased dad, I just want to say: thank you. Thank you for your love and devotion to our family and the family of nations that you have served so diligently all these years.
May the angels and their songs accompany you to your eternal rest.