The Vineyard Festival 2020 -organized only months after the social explosion of the previous year- approached the precipice at times. While in the previous one a mob devastated the O'Higgins hotel burning cars and breaking part of its accesses, already in full development another group of people stoned vehicles that transported artists -among them, Ricky Martin- and looted some nearby places to the Fifth Vergara.
"That year was the most challenging from a career point of view for many of the people that were involved there. We had to make decisions that went hand in hand with what was happening at that time in the country", recalls Daniel Merino (31), general producer of the summer event.
But the 2020 version was not only an appointment that marched on the edge of danger. It was also the last Viña Festival of our lives. Then, silence: for the first time in its history, the pandemic parenthesis forced the contest to be suspended for two years in a row, leaving 2021 and 2022 without the most classic of summer rituals.
For this reason, his next installment -already confirmed between Sunday, February 19 and Friday, February 24- appears as one of the most relevant in decades, moving between two well-marked axes: the expectations about what his return will be like after the forced break ; and how it will face a very harsh economic situation, especially when putting together the lineup of artists, in a context that ranges from high inflation to fluctuations in the dollar.
According to Merino, it has already been defined that most of the financial efforts will be destined to the signing of their respective figures, trying to ensure that the daily schedule does not suffer any loss and keeps up with the recent editions. In that sense, the economic adjustments will be mostly on the production side.
"The Viña Festival grill is not going to be touched in any case in terms of artistic quality, nor the number of artists, or anything like that," says the promoter.
Then follows: "Everything has been like organizing the Festival again for the first time. We have been working for six months now, a team of 120 people has been working on this for six months, and I am very sorry that it is said that the event is not yet taking place and that nothing is being done, because it is painful for the people who have been involved for many months. Here there are many hours of coordination, a lot of travel to close artists, to achieve good technology. We have also worked on rebuilding teams, because there were many people, such as suppliers, who in these two years dedicated themselves to something else. We are not behind, I would say that we are even more advanced than other years, where we began to see the scenery in November. Today we have it ready".
-It is that by not having announced artists, as it had happened in other years, it gives the feeling that the Festival is delayed. What about that topic?
You have to understand that historically, in August or September, it's not that we've announced a full lineup, there's always at most one or two artists. What we are working on is that the mayor, as she corresponds and as she has always been, can announce artists in a very short time. We have to find the right moment. It is not for me to announce names, but I can tell you that there are already several artists within the Festival and that they are ready to be announced in a short time.
– We'll come back to that topic. What has been the most difficult in this festival of return?
The most challenging has been the economic issue. It is a festival that is going to have changes in different areas, because you have to understand that the Viña Festival is the only one in the world where tickets cost what they cost in Viña. The Quinta Vergara has a capacity of twelve thousand people where more than half corresponds to the gallery, which costs around thirty thousand pesos. So, financially, the Festival is made up of the ticket office plus what the sponsors contribute. It will be challenging this time from the financial administration and that is where we are working hard, especially in a year where we have tremendous inflation.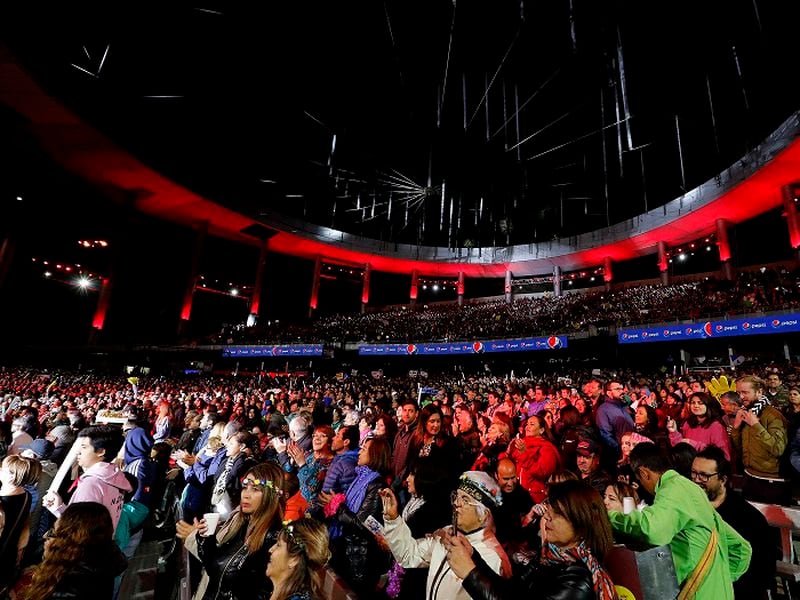 "Another issue that has been very complicated is the dollar. You have to think that all the money we collect is in Chilean pesos, but the artists are paid in dollars. And that has been very painful to finance the Festival. For the rest, the serious problem that exists today in the world and in the entertainment industry is the issue of charging. There are no boats available. The plane is very expensive. Moving a large load in a container used to cost you ten thousand dollars, today it costs you 25 thousand. Today there is no space on the ships to move loads of artists that are sent to us, for example, from the United States, so we are relying on various logistical plans to be able to make it happen".
-Is the complex economic context going to influence the final result of the lineup of artists?
Artists and suppliers have mostly understood the situation the country is in from a financial point of view, because it is a global thing. The dollar due to external and internal factors is very volatile. So, they have negotiated in such a way that it allows the standard of the festival to continue to be maintained as it has been in recent years, which is very high. We have reached a financial efficiency that allows us to continue maintaining the same number of artists. And the budget is relatively the same as other years. You also have to understand that for many artists coming to Viña is a ritual. They want to be back.
"Of changes there are going to be changes, but in front of the audience and in front of what Viña delivers as an entertainment proposal on the air, people are going to see the same thing. There are going to be changes, for example, that we are going to reduce technical teams: before everyone used to go to Viña, now many people may stay in Santiago. There are four thousand people who work in the event and that is a huge logistical challenge in terms of transportation, hotels and food. That's where the change goes, we're going to try to compensate at that point".
"The scenery will also remain the same, only that the tensors that were previously on the Quinta Vergara were removed, so there is more space upstairs, which will allow us to have a drone to see how the place vibrates during the festival nights ".
-Hasn't the brand been devalued due to these two years of absence?
No way. Quite the contrary. Before, one had to go looking for artists to complete the grid. Today there are many who are telling you 'I want to go to Viña, I would love to participate', which used to be less common. You have to think that twelve or thirteen more or less artists go to the Festival per year; that is, there are two accumulated years. We have 25 or 28 artists who are waiting for those slots that came to nothing. But you have to dose.
"Three Anglo artists have called, they have sent an email where they say they want to be in Viña and be part of the Festival. But there is only one Anglo day, so we have to distribute well. Hopefully that interest will continue over the years."
"In order to design a festival grid, we use many metrics, studies are done, we talk to Spotify, Spotify is reviewed, we see how many people listen to some artists daily in Chile, how many people can travel from neighboring countries. Today there are many Chilean artists who are in the top 50 of Spotify and that is tremendous. I know that many people can criticize the style of music or what the songs say, one could agree or not with the lyrics, but there is something to recognize, it is that they made their way in an industry where before there was only space for those who were in Miami".
-There he is talking about Chilean artists of trap and urban music. Is Viña 2023 going to have one of those names?
Of course yes.
-A full night dedicated to Chilean trap?
A complete night is difficult, because you have to cover all kinds of audiences. But yes, some artist should be in Viña this year representing that strong movement that has developed these months.
-How has the relationship been with the new mayor of the city, Macarena Ripamonti?
I am very grateful for how she has received us. We must remember that she is a young mayor, very connected with what is happening today in the world of music, and obviously she has her opinion. 'Look, I think people want to see this and want to hear this.' More than her personal tastes, she has put suggestions on the table that have gone hand in hand with what people have transmitted to her. She is a mayor who is very connected with her own neighbors of the commune. Many people write to her on Twitter and give her suggestions and she has sent them. And of course, they have been considered within the artistic plan.
-In 2020 the Gala was suspended due to the situation the country was experiencing. Will there be a Gala in 2023?
The Gala was suspended that time because the Festival was progressing with everything that was happening to the country. The Gala is made by a separate team. But I do know and I am aware that the channel team is working hard to be able to make a proposal that allows the Festival to develop as before. (Regarding the Gala), something new is being worked on, so that it has a place. It is a new proposal that goes hand in hand with what is happening in the country.
-There were versions that spoke that Daddy Yankee could return to Viña. You can pass?
As I said before, the artist who is a trend in the world has to be in Viña. That's always been the case and that's what I believe. But the names as such have to be given by the mayor Ripamonti, hopefully in the coming weeks.
-It would be a great moment for Daddy Yankee to say goodbye at Quinta Vergara.
I think that everyone as music fans, and I personally, as a fan of what Daddy Yankee did for the industry, I would very much like him to be there. But unfortunately personal tastes do not run in this race. Here what is in fashion runs, the artist's career, the logistics that are available at that time. But not because he is an artist or not, it will be a better or worse grill. I can guarantee you that the next Viña grill will have artists with enough experience to be there.
-In the industry there is also the option that Christina Aguilera could be one of the Anglo cards. Is it so?
I know that the theme of the Anglo has always been like something very desirable, but in general the grills are built little by little and step by step. There are many conversations with many artists. I could not tell you that we are talking with one or the other, because as I say, we always try to take care of the Festival in such a way that the mayor has the opportunity to announce accordingly. Nor is it for me to say with whom we are negotiating, because it would give indications of who is going to come to the Festival. The name, the one you just told me, is a name that has not only been on the table last year, but also the one before, and the one before, and the one before. It has been on the table many times and many Anglo names are on the table. So there are many possibilities.