Daniela Ramirez he got tired and decided to resort to justice. This after a well-known businessman was sexually harassing her for at least two years.
It is that the actress said enough to the constant messages that she was receiving from Gastón May, a 67-year-old architect.
It all started with a letter that the man sent to the protagonist of TV series like Amanda. One where he began her contact with her, as confirmed by the media Publimetro.
In the letter, the subject not only expressed all his admiration, but also He offered him some land in the south of Chile to record dramatic productions.
Daniela Ramírez and her resource for protection
Thus, after these first contacts, the situation became increasingly worse. And he continued with messages from social networks like Instagram.
"During the summer of 2020, our client began to receive a series of messages on her Instagram account, in which May recounted episodes of the daily life of her day and responded to the stories that our client published on said social network", it is read in the protection resource presented before the justice by the interpreter.
According to Ramírez's lawyers, the businessman "It made our client the protagonist of her daily life, as if they were joined by a sentimental relationship, nonexistent in reality."
A situation that caused the figure to block him, but the architect created at least ten accounts to continue sending him messages, which then rose in tone. "Photographs in which he appears completely naked, and videos in which he is seen masturbating, accompanied by comments in which he urges our client to have future sexual relations with him," the representatives of the actress pointed out.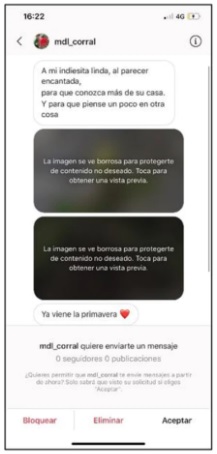 For this, in June 2020 Daniela filed a complaint. However, she was dismissed, which caused the sexual harassment to continue with daily videos and even images of the surroundings of the home of the face of soap operas.
An event that mobilized the lawyers Ciro Colombara and Aldo Díaz, who they told Publimetro that "what GM is doing with Daniela is unpresentable. Obviously, we are concerned that her behavior will continue and be aggravated for the safety of her and those close to her. This must stop and Gastón May must take responsibility for his sexual acts in front of justice. Today she is Daniela, but in the future she may be someone else. Therefore, we are very satisfied with the order not to innovate decreed by the Court".
An order that was accepted by the court of appeal and that determines the prohibition of any contact of the subject with Daniela Ramírez, either physical or through social networks.
.